If you saw my previous post, you have seen how I fared with my 20 in 2020 challenges last month. Now that I have completed by Monthly Planning, here are some goals that need tweaking in February.
(#3) Budget Like a Boss
I use a website called You Need A Budget (YNAB) to do our financial planning and tracking. Our expenses fall under 4 broad categories: Quality of Life Goal expenses, Necessary expenses, Obligatory expenses and Luxury expenses.
Quality of Life Goals category are our important, but not necessarily urgent expenses, like savings, investments and gifts. Next one is the Obligatory category which contains fixed expenses like utility bills, tithes and insurance premiums. The third category is called Necessary which includes discretionary expenses like groceries and fuel costs that vary each month. And finally, the Luxury category includes our extravaganzas like dining out and entertainment.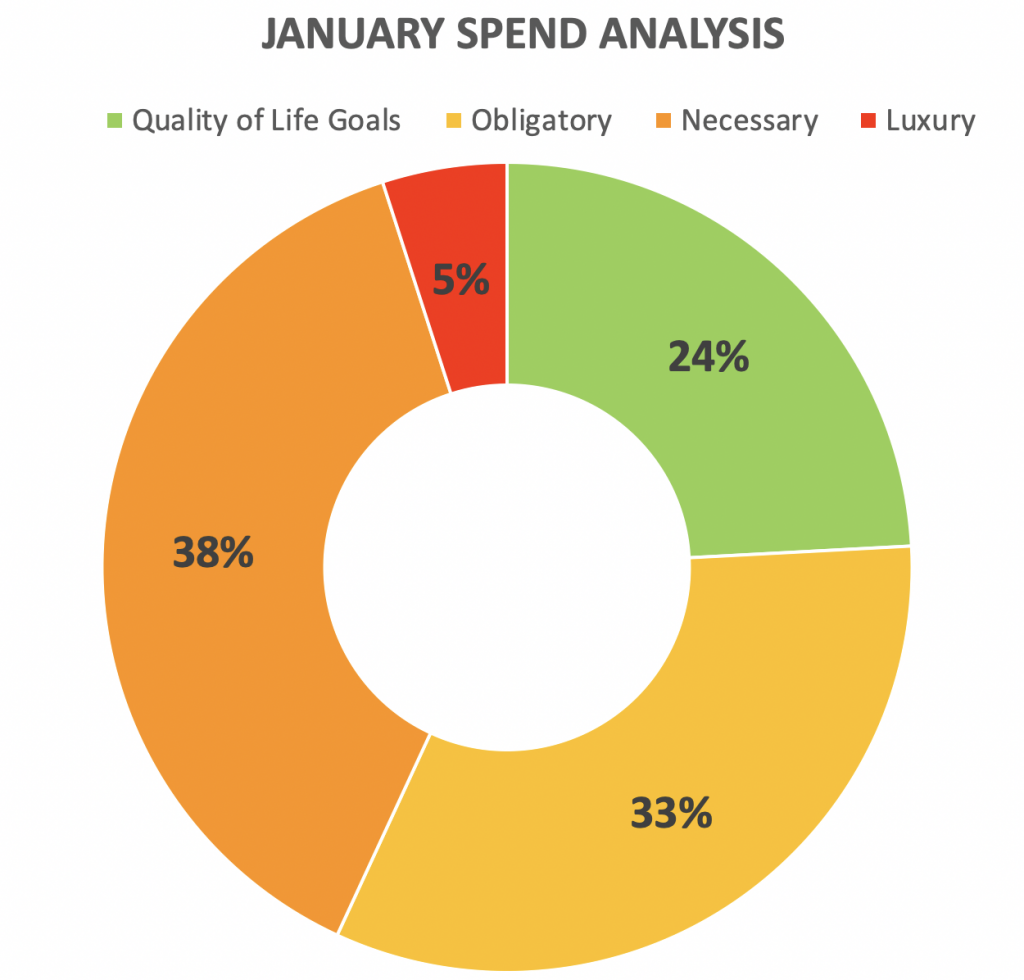 In January, we reduced our Luxury expenses to about 5% and improved our Quality of Life Goals expenses to 24%. But our budget needs some drastic improvements. Because it is far from our ideal distribution, which is:
Quality of Life Goals – 60% (currently 24%)
Obligatory – 20% (currently 33%)
Necessary – 15% (currently 38%)
Luxury – 5% (currently 5%)
I have set up the February budget on You Need A Budget with a goal of increasing the Quality of Life Goals expenses to 50% and decreasing the Necessary expenses to 20%. So this month's challenge would be to stick to this plan.
Here is my referral link to You Need A Budget to get a free 34-day trial.
(#5) 20 Hours of Workout
When I did my Time Log for last month, I realised I had only done 15.5 hours of exercise. So I need to amp up my workout routine. I can get in more walking time while I am reading or on the phone. I am also on the lookout for an exercise buddy who can push me through some sort of 30-day challenge. Any suggestions, please drop me a comment.
(#9) A2-Level Spanish
Last month, I was pretty inconsistent with learning Spanish. I listened to audio lessons for about 10-15 minutes a few days a week. However, I have been making snail-like progress with this approach. So I am planning to incorporate some reading and revision time as part of my bedtime routine. I reckon, an extra 5 minutes most nights could make a difference.
(#10) Project Life 2020
Looking back at the photos I have for January, I am surprised that most of my pictures are of food, snippets from my reading list and my husband. But not many photos of us together and far less number of selfies. This is a bad sign! How can I scrapbook the year without pictures of me? *sigh* So the goal for the month is to take more pictures of us together and even start taking some occasional selfies.
(#11) NaNoWriMo 2020
I have a story in my head and I even can vividly picturise the characters. But I have been plain lazy to get going on this goal. This month I am taking 4 baby steps:
Set up a project in NaNoWriMo – 5 minutes
Reinstall Scrivener on my device – 5 minutes
Block 4 hours this month in my calendar to do a braindump – 4 hours
[Stretch Goal] Convert braindump into an outline and identify gaps to work on next month
(#14) Sketchbook Mini-Slam Challenge
When I started off with this challenge, I reserved two 200-page A4 sketchbooks – one for doodles and the other for "masterpieces". And surprisingly (or not), my masterpiece sketchbook is empty! Of course, a friend has already pointed out the obvious to me – being overly critical is not helping me get off the ground with this challenge. So I am bidding goodbye to Perfectionism and embracing my imperfect creative self.
(#15) Single Instrument Music Medley
I spent some time practising a few chords on the Ukulele last month. But recently watching my husband get enthusiastic over keyboard artists (evident also from his YouTube history), I am reconsidering my choice of songs and instrument. I have arranged a playdate with a friend to help me with the song selection and also give me some tips on getting started. Meanwhile, I found this Piano Practice Time Calculator and feeling overwhelmed. LOL!
In Summary:
Budget like a Boss:

> 50% Quality of Life Goals expenses
< 20% Necessary expenses

20 Hours Workout:

Walk while I read/talk on the phone
Get an exercise buddy and find a 30-day regimen

A2-Level Spanish: Add an extra 5 minutes of reading and revision time
Project Life 2020: Take more photos of people and things that matter
NaNoWriMo 2020:

Get workflow ready on NaNoWriMo website and laptop
Do a braindump! 

Sketchbook Mini-Slam Challenge: Let go of perfectionism and start using my "masterpiece" sketchbook.
Single Instrument Music Medley:

Catch up with a friend to decide on some songs and put together a study plan
Include a couple of hours of Keyboard practice in my weekly schedule