At the beginning of the year, I posted about my 20 in 2020 challenges. Here is another update on how I am progressing with them at the end of another month.
How did I spend time in April?
After sleep, work and class, my top 3 activities for the month were coding, reading and exercise.
I had also set a specific challenge to allot 26 hours a week for personal development activities. And as you can see from the below Timeular report, I did well. I got in close 118 hours for the month which equates to over 27 hours each week.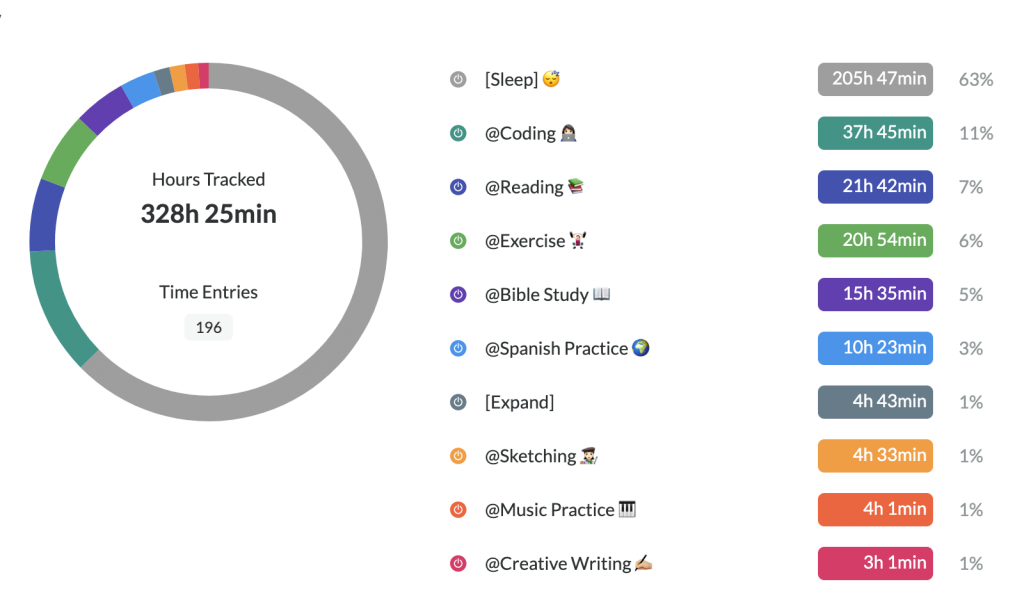 All-Year Challenges
Bible in a Year: 18 out of 52 weeks completed

GOOD

20 Fun Dates in 2020: Whilst being still locked indoors the only fun activity we did together was binge-watching a full season of Race Across the World one Saturday.

CAN DO BETTER

Budget like a Boss: I broke my phone and got a new one. That unexpected purchase skewed my budget plan but fortunately did not rake up any debt.

CAN DO BETTER

20 Books in 2020: Thanks to my husband's audible subscription, I listened 1.5 books this month: Steve Peters' The Chimp Paradox and Jordan Peterson's 12 Rules for Life. Both are amazing books and I have been relistening and making notes as I go. You can view my 2020 Reading List in Goodreads. However, one thing I noticed is Audible is just not my style. Yes, it helps me multi-task (like listening to my books whilst cooking or walking) and it makes reading easily accessible. But I like skimming through books before I read them. I like going back and reading specific snippets. Also because I like taking notes, even though I listen to the book whilst multi-tasking, I relisten to it again when I am in my study to take notes. 8.5 out of 20 books done

GOOD

20 hours of Workout: I got in nearly 21 hours of exercise this month.

GOOD
---
Lifestyle Challenges
200 Hours of Code: I had done about 5.75 hrs of coding last month. But this month, I ramped that way up to 37.75 hours. It feels awesome! And at this rate, G❤︎d willing, I will hit the half-way milestone of 100 hours in June.

GOOD

#MinsGame: Completed in March. But I still haven't hit publish on a post awaiting in my blog post queue.

SUCCESS

Project 333:

DEFERRED

until July… or when COVID lockdown ends.
A2-Level Spanish: Managed to get in 10 hours of Spanish lessons in. Slow and steady… that is the best way to describe my progress.

GOOD

Project Life 2020: This goal has really whittled down after I have again failed to take enough pictures. I have been zooming/8x8ing with a lot of my friends recently. And they have sent me a lot of headshots of me and I think those are the only decent pics of me that I can find in my gallery. Also, I don't find the same joy I once had when scrapbooking, because the focus has shifted from telling beautiful stories to a photo journal by a bi-polar. (For clarity: I don't mean I have bi-polar. But looking back, some of the stories are all hyper about how joyful the COVID time is. And then the others are moans about what is wrong with the world. Not helpful and not pleasant to read back through them).

CAN DO BETTER
---
Fun Challenges
NaNoWriMo 2020: I spent some time outlining more chapters this month. Since the "real deal" (i.e. NaNoWriMo) does not start until November, I am OK with this for now.

GOOD

20 Poems in 2020:

DEFERRED

until July
Vlogust:

DEFERRED

until August
Sketchbook Mini-Slam Challenge: Did about 7 pages which is really not much. I have a feeling I will fail at this challenge but going to keep at it every weekend and see what comes out of it. 8 out of 200 Pages

CAN DO BETTER

Music Medley: More practice time in and 2 melody snippets learned.

GOOD
---
In summary, I did GOOD in 8 of these challenges. I CAN DO BETTER in 4 areas and here is my plan of action for these:
Have more Fun "Indoor" Dates like Game Nights maybe. I also feel so overwhelmed with my activities during the week that all I want to do over the weekend is be by myself (which is a very unhealthy attitude, if you ask me!).
I have a major payout coming in May. Make sure I don't rock the boat on this one and don't accrue debt.
Reach out to my Scrapbooking/Project Life/Memory Keeping buddies to find out what they are doing during the lockdown period.
Continue to schedule in an hour every Sunday to get some sketching done for the upcoming quarter – even (and especially) when I don't feel like it.