At the beginning of the year, I posted about my 20 in 2020 challenges. I did OK in my first month, a little better last month. And then this month, the COVID-19 lockdown happened! And I have to be honest – it has been a challenging one. So did I do well in March with my goals?
How did I spend time in March?
I had a few different life changes going on leading up to March, so COVID-19 felt like just another curveball. On a positive note, I was already remote working most days of the week, so work routine stayed unaffected. But having my husband also work from home, brought in some unusual changes to routine. But, oh boy, am I glad he is home!
My top 5 items from Timeluar continued to be: Sleep, consuming books/podcasts, exercise, Bible study and learning.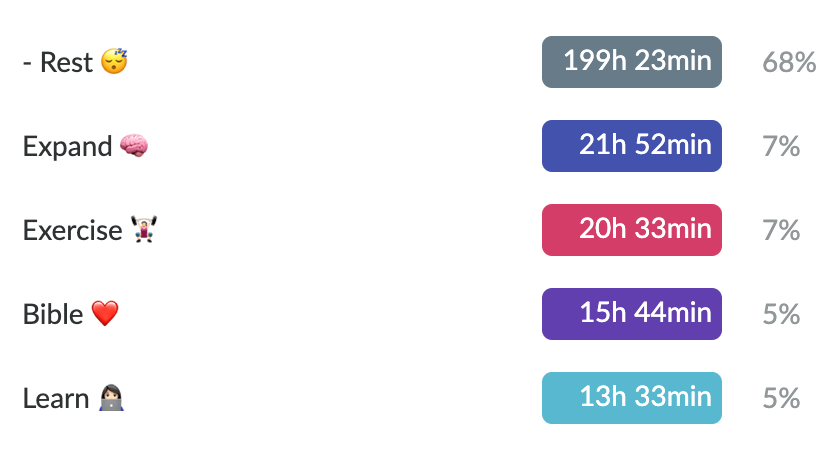 All-Year Challenges
Bible in a Year: With my husband working from home due to the lockdown, I have managed to go to bed early. Waking up at 5 AM to make time for Bible Study is so much easier these days.
Verdict: 13 out of 52 weeks completed GOOD
20 Fun Dates in 2020: I was so excited about this goal last month. But with the lockdown, this went on hold. The few "dates" we had this month were spent watching movies/TV series. Oh well… and one weekend we played chess that ended in checkmate. That was fun, but not exactly my idea of a fun date exactly.
Verdict: 2 out of 20 dates done

CAN DO BETTER

Budget like a Boss: One of the areas that had a relatively positive impact due to the COVID-19 lockdown was the drastic reduction in our Luxury expenses (like takeaways, movies etc).
Verdict: Just got lucky this month! =)

GOOD

20 Books in 2020: With my part-time course completing for the current term in March, I had more reading time (19 hours) this month. I read 3 books this month: Tim Ferris's 4 Hour Work Week, Marie Forleo's Everything is Figureoutable and Cal Newport's Deep Work. Last quarter, I finished 5 books in the first quarter of 2020. You can view my 2020 Reading List in Goodreads.
Verdict: 5 out of 20 books done

GOOD

20 hours of Workout: I got in over 20 hours of exercise this month. But in there is at least 8 hours from when I walked whilst I read (which in the ideal world shouldn't be an exercise time, but reading time).
Verdict: 20 out of 20 hours this month

GOOD
---
Lifestyle Challenges
200 Hours of Code: If you know me, you know how Coding is my go-to distraction activity. Until the lockdown started mid-March, I was "meh" about this goal. But once the panicky COVID messages started streaming in, I just went for it. I have not been doing anything fancy – just a series of coding katas on Node JS app creation.
Verdict: 5 hours 47 minutes out of 200 hours

GOOD

#MinsGame: This was a great success after I managed to declutter 496 items (including a bunch of tiny items). The only downside was because of the COVID lockdown recycling centres were closed. So now I have a truckload of stuff that needs to be taken to the recycling centre. I will do a separate blog post all about this challenge.
Verdict:

SUCCESS

Project 333: No updates this month.
Verdict:

DEFERRED

(until July)
A2-Level Spanish: This goal started so well at the beginning of the month. I found a tandem partner to practise my Español and we vowed to meet up every week to practise. But when the lockdown started this went into a halt. Last week, managed to set up a few virtual sessions with my tandem partner and got in nearly 10 hours.
Verdict: Slowly moving in the right direction.

GOOD

Project Life 2020: After staying indoors for part of the month, I have not been capturing enough photos (or even stories) in March. But the reality is that there are so many stories to capture – about the transition to remote working for both of us, the grocery shopping challenges, thinking of death and even apocalypse in a new light and so many more.
Verdict:

CAN DO BETTER
---
Fun Challenges
NaNoWriMo 2020: I started writing a chapter last weekend just to gauge my pace. I got in 800 words – which isn't much at all! I blame it mostly on my editing which I think I need to put on hold this quarter. I am often my worst critic.
Verdict:

CAN DO BETTER

20 Poems in 2020: No updates this month.
Verdict:

DEFERRED

(until July)
Vlogust: No updates this month.
Verdict:

DEFERRED

(until August)
Sketchbook Mini-Slam Challenge: I never got into that quiet mental space to sit down with my sketchbook until last Sunday. After a beautiful live-streamed Sunday service on Zoom, I found the mental clarity to pick up the sketchbook finally and do one page. One is better than none, right!
Verdict: 1 out of 200 Pages

CAN DO BETTER

Music Medley: After fitting in many 5-minute sessions, I got in 104 minutes of practice time this month.
Verdict: Need more practice, but getting there.

GOOD
---
In summary, I did GOOD in 8 of these challenges. I CAN DO BETTER in 4 areas and here is my plan of action for these:
Have more Fun "Indoor" Dates,
Schedule in a couple of hours in April to review from my journals to capture some stories and collate news clips for my Scrapbook
Schedule in an hour each every Sunday to get some writing and sketching done for the upcoming quarter