I did an exercise in January to track my time for the month and found great benefits in doing that. So I have continued doing that since. This has helped me find a trend on where my time is spent in a quality way. It has also helped me set some ambitious goals for the upcoming quarter.
Here is a snapshot for the last 3 months from my Timeular App. And based on the below numbers, I have still been spending roughly 21 hours per week on personal development activities.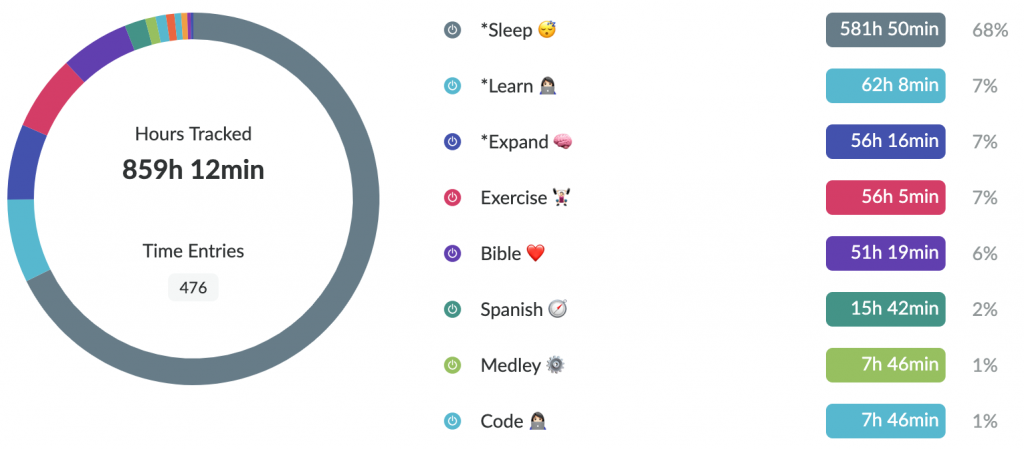 For the upcoming quarter, I would like to challenge myself to spend a minimum of 26 hours each week just focusing on the following key goals:
Coding => ~ 7-8 hours each work
Daily Exercise => ~ 4-5 hours each week
Reading/Listening to a book => ~ 4 hours each week
Learning Spanish and Music => ~ 4 hours each week
Bible Study => ~ 3 hours each week
Creative Pursuits (scrapbook, write, sketch) => ~ 2 hours each week
Considering that I have over 30 hours unaccounted for after work, sleep, part-time classes and the current 21 hours put to good use, I think I can definitely get in 5 more hours this quarter.
On that note, here is a sneak peek at how my phone usage has drastically reduced this quarter. I started off spending over 4 hours on my phone each day. Good to see that come down to a little over an hour. Think what I could achieve by reducing my TV Series binging time next. LOL!