Most part of last year, I kept complaining to my best friend about how much I could do if I had more time for me. And he kept repeating – "You have time, Sony. You just haven't realised it yet!". And then, inspired by Laura Vanderkam [whose podcast "Before Breakfast" rocks, BTW], in January, I decided to track some of my time.
I had tried time-logging in the past and had miserably failed. So I chose a slightly different approach. Rather than tracking a 24-hour day, I decided to track specific activities like sleep, exercise, reading and working on many of my 20 in 2020 challenges. In short, I tracked only those intentional activities that I was spent on self-improvement.
My Fitbit band monitored my sleep duration automatically and for everything else, I used my Timeular tracker. And then, on a weekly basis, I manually entered my sleep times into the Timeular app. I reviewed this every single day to get a sense of how I was faring. So I reckon time-tracking pushed me to be a little extra productive. The app was a good reminder each morning as to how much of my time was being used productively. So instead of just tracking time, this became a self-improvement assignment.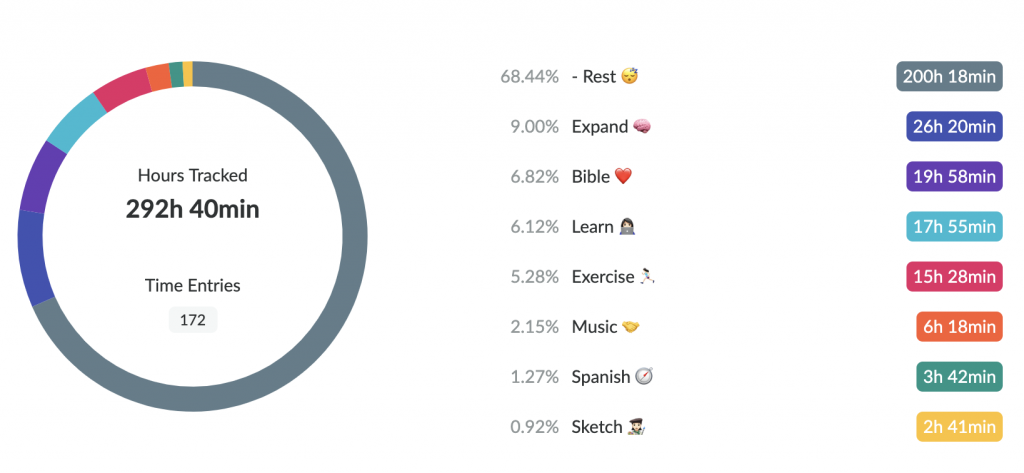 The Good News
As you can see from the report above, in January, I spent an average of 66 hours each week on self-improvement (including sleep). This is good news because this is way better than I expected it to be. I had not been getting my full 8-hours of sleep. So excluding sleep, I spent about 21 hours each week on self-improvement. Far better than what I had initially envisaged!
Three activities that topped the charts are:
Reading Books/Listening to Podcasts – 26 hours 20 minutes
Bible Study – 19 hours 58 minutes
Study Time (doing a part-time programming course) – 17 hours 55 minutes
This definitely puts a smile on my face. Also, these activities are part of my identity as a Christian, a Developer and a Lifelong Learner/Reader. Forgive my tooting my own trumpet, because I am just getting into the ugly bits of that time report. LOL!
The Bad News
Just as I was thrilled to see the areas I spent my time on, I was also disappointed by some of the areas, where I wished I had spent more time.
I had set a goal to exercise for 20 hours each month. In January, I made it to only 15.5 hours. (Current: 15.5 Future: 20)
Playing a musical instrument is supposed to be one of the most relaxing activity. And I have managed to only get in about 6 hours of music practice last month. I need to schedule in more time, because by the looks of it, what doesn't get scheduled doesn't get done! (Current: 6.25 Future: 14)
I haven't been spending enough time for my Spanish lessons. I need to be upping that at least to 8 hours a month. (Current: 3.75 Future: 8)
The worst of it all: 2 hours 41 minutes of doodling !!! I don't even know why I put that under sketching to start with. I need to be putting in a solid 10 hours to succeed in my Sketchbook Mini-Slam Challenge. (Current: 2.75 Future: 10)
Essentially this means I need to get in 24 more hours each week to be uber-productive. Putting in more time into these areas matter to me, not just because I am doing a 20 in 2020 challenge or because the report will look fancy next month.
But these activities would also add to my identity.
Sony - the hot polyglot 
dabbler of music & art!
The Ugly News
On first glance, 292 hours of personal time for a month sounds lush. But let me reveal some numbers.
Total Time in January = 744 (24 hours x 31 days)
Time Spent at Work = 190 hours => ~ 45 hours each week
Time Spent Sleeping = 200 hours => ~ 45 hours each week
Time Spent on me = 92 hours => ~ 21 hours each week
Time Unaccounted for = 262 hours => ~ 57 hours each week
Of course, some of that unaccounted time was spent fruitfully on socializing, attending classes, doing voluntary work and chores. But I am pretty sure a huge chunk of that went into browsing the internet, scrolling through social media feeds, writing blog posts like these and binge-watching You – Season 2 (don't judge!). This is all useful information. Because now I know, I can repurpose, if I choose to, 24 of those 57 hours and put them to better use.
Lessons from my Time Report
Firstly, the numbers have completely changed my mindset. I have a lot of time for me, I just hadn't realised that last year. Secondly, I can see a lot of scope for improvement (yes, I am eyeing you, 57 unaccounted hours). I am not going to set false expectations, though. There is no way I am going to move 24 hours into my productive time bucket in a month. But I can start with a few simple actions:
Increase my exercise time to 20 hours (maybe I can schedule in some walks while I read or while catching up with a friend on the phone)
Increase my Spanish study time by 1 hour by including a few extra minutes every night for revision
Use sketching and music practice to take my mind off things instead of passive TV watching
Using the Timeular tracker and app definitely helped me do this exercise. I intend to continue tracking these activities for the rest of this quarter. If you would like to do a similar activity but do not want to spend money buying additional devices or trackers, I highly recommend Toggl. It is completely free and you can track your time from a mobile device.